MUSICMUSICMUSIC
website
music and video..
like!
Upcoming gigs:
22/9, Folkets Hus, Vänersborg
18/10 Oct-Loft Jazz Festival/爵士节 深圳/Shenzhen
19/10 Real Live 厦门/Xiamen
20/10 亦说咖啡/Essso Cafe 宁波/Ningbo
21/10 东海音乐厅/Donghi Live 舟山/Zhoushan
22/10 Wooden Box 上海/Shanghai
23/10 黄楼/Yellow House 杭州Hangzhou
24/10 tu凸空间/T:Union 广州/Guangzhou
25/10 LMA 澳门/Macao
27/10 红糖/Brown Sugar 台北/Taipei
28/10 Marsalis Bar 高雄/Kaoshiung
29/10 大东文化艺术中心/Dadong Arts Center 高雄/Kaoshiung
29/10 Marsalis Bar 高雄/Kaoshiung
12/11 Gerlesborgsskolan, Hamburgsund

2017:
13/1 Nefertiti (SVEJS) feat. Lindha Kallerdahl

BIO AND INFO:

ENGLISH:
SVENSKA:

Quotes!

Pressrelease svenska -
BUEN SABOR



PREVIOUS GIGS
ALBUMS
:

Buen Sabor
Relaease 2013-11-06

West Side Story
(with Lina Nyberg)
Release 2010-11-03
In Technicolor
Release 2009-10-09

Everybody Digs
Release 2008-02-20

Macbeth
Release 2006-10-09

What's a good boss
anyway? release 2005-04-10
One Two Free
release 2004-03-03
CONTACT: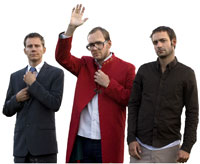 MMM are:
Michael Edlund: drums
Fabian Kallerdahl: keys
Josef Kallerdahl: bass
Fill out your e-mail address to receive our newsletter!
Swedish and International bookings:
Contact us!
MORE: