MUSICMUSICMUSIC
website
music and video..
like!
Upcoming gigs:
23/4 GMLSTN Jazz Festival, Hjällbo KA, GBG
17/8 Fasching, STHLM with Shawna Yang
6/10 Nefertiti, GBG
29/10 Taipei Jazz Festival, Taiwan
1/11 Chung Yuan Christian University, Taiwan
1/11 Marsalis Home Taipei, Taiwan
2/11 Tamkang University, Taiwan
3/11 TARITSI ARCHI, Kaohsiung, Taiwan
4/11 Datong Art Culture Center, Taiwan

BIO AND INFO:

ENGLISH:
SVENSKA:

Quotes!

Pressrelease svenska -
BUEN SABOR



PREVIOUS GIGS
ALBUMS
:

Buen Sabor
Relaease 2013-11-06

West Side Story
(with Lina Nyberg)
Release 2010-11-03
In Technicolor
Release 2009-10-09

Everybody Digs
Release 2008-02-20

Macbeth
Release 2006-10-09

What's a good boss
anyway? release 2005-04-10
One Two Free
release 2004-03-03
CONTACT: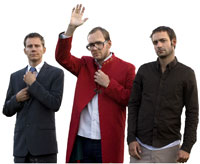 MMM are:
Michael Edlund: drums
Fabian Kallerdahl: keys
Josef Kallerdahl: bass
Fill out your e-mail address to receive our newsletter!
Swedish and International bookings:
Contact us!
MORE: